Several Greyhound bus drivers operating on the route from Reno to Sacramento say they recognized Kaczynski, by photo, as one of their passengers, according to a supervisor at Greyhound's Stevenson Street station in Reno.


"I personally didn't see him, but some of the drivers who go in to Sacramento say they recognize him," said Laverne Watts, customer service supervisor in Reno. He added that these were drivers who make their runs out of Reno.


"Of course, some of our customers normally look like that," joked Watts, referring to photos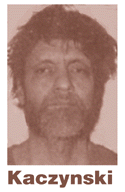 showing the bearded, bristly-haired bombing suspect when first taken into FBI custody.


According to Greyhound and other bus-line officials, there are two most-traveled bus routes to the Sacramento area from Helena, Montana, where Kaczynski is known to have boarded buses. One itinerary goes west out of Helena on Interstate 90 to Spokane, Washington, and Portland, Oregon, then south on Interstate 5 to Sacramento. The other goes south on Interstate 15 through Pocatello, Idaho to Salt Lake City and then west on Interstate 80 through Reno.


"They think that he went both of those directions at one time" or another, a source in the Trailways bus company told Electric Nevada. He said that FBI agents had visited Trailways' Spokane, Washington terminal about two weeks ago, asking bus personnel if they might have recognized the alleged bomber.


"Evidently .. some of those papers they found [in Kaczynski's Montana cabin], mentioned something about the federal courthouse here in Spokane and the bus depot. So they figure he came through here," the source said.


It is also possible, bus industry personnel say, that the bus-riding Kaczynski could have taken a more covert third route to northern California. In that case he would have traveled by Northwestern Stage Lines, owned by Trailways, down from Spokane through Boise, Idaho to Winnemucca, Nevada, where he would have connected with Greyhound for Reno and then Sacramento.


Thus two of the three main routes from Helena, Montana to northern California would place the alleged Unabomber, with his home-crafted bombs, in Reno.

Electric Nevada queried the Federal Bureau of Investigation about the bus-riding Kaczynski's use of the Salt Lake City-to-Reno route to northern California.
Top of page
---

---
---

---

"That's what we're investigating now," said George Grotz, press relations agent for the FBI's San Francisco office. He refused, however, to give any details.


U.S. News reported in mid-April that investigators were searching for recipts or other records to show Kaczynski "used Trailways and Greyhound buses to transport some of the bombs before mailing them from different locations."


In the 1980s, Salt Lake City, Utah was the origin of several of the bomber's strikes. In the 1990s, Sacramento and the Bay Area were sources from which four bombs were mailed.


Sacramento was also the location of two of the three Unabomb killings. On December 11, 1985, businessman Hugh Scrutton was killed when a bomb exploded outside his computer store, and on April 24, 1995, the president of the California Forestry Association, Gilbert Murray, was killed by a mail bomb in the associations Sacramento headquarters.


At least 23 other individuals across the country were wounded by Unabomber blasts. Altogether, five bombings in Californa are attributed to the Unabomber, so named by the FBI because of his early university and airline targets.


Appeals already being pursued by Kaczynski's court-appointed defense counsel have given the FBI extra time to continue its investigations, FBI spokesman Grotz told Electric Nevada.


"Under normal circumstances," said Grotz, "under federal rules of criminal procedure, the government has 30 days to take a case to court or to file an indictment" after the initial filing of a complaint.


In this case, however, he said, the defense attorney had filed a motion in federal court in Helena, arguing that government leaks to the media had made it impossible for his client to get a fair trial.


"The district court judge there in Helena denied the defense motion," he said, and then the 9th Circuit Court of Appeals in San Francisco denied it again.


"At that point the defense appealed it once again, to the Supreme Court," said Grotz, adding that until the U.S. Supreme Court acts on the appeal, the 30-day clock is stopped.


"So on this initial charge, there is no requirement that the government move at this point unless and until the Supreme Court acts."


"Now, simultaneously, we're of course putting our case together," said Grotz. "We're investigating the case and perhaps the worst-kept secret is, we will eventually move for indictment, and that can come at any time."