This summer of 1996 he's favoring a sort of Sanctified Sandwich Board arrangement --- a five-foot-high Our Lady of Guadalupe wall rug hanging from his neck in front, while a placard bearing posters of Jesus and Mary is suspended on his back.


The letters on the T-shirt beneath are huge: "Choose Life."


His bright red socks (to symbolize, he explains, that we wade in the blood of millions of aborted infants) are pulled up over black pants (to represent mourning), while the bright red gloves on his hands, he says, signify that our collective hands, like Pilate's, are stained with blood.


The style of the cowboy white straw hat on his head seems to have changed the least over the years. Like its worn-out predecessors it is still white, and carries the same labels. On the front, a red heart bears the image of a baby and the words "Protect the Unborn," while on the back a sign declares "Say No to Abortion, Restore Value to All Life, Vote Pro Life."


Pro-Life Andy Anderson --- he legally changed his name in June, 1987 --- has been a Reno landmark for over 20 years. Sixty-nine years old now, he still shows up almost daily at what he calls "the local abortion mill" (which he's pursued from its old digs on Mill Street to its new, fortified, quarters on Tyrone Road), to pray and conspicuously dramatize the plight of America's unborn. Should you not be current on that situation, text on the back of his T-shirt will bring you up-to-date: there are "4,352 babies killed in abortions each day in U.S.A. alone."


In the view of several Reno journalists, the big news about Pro-Life Anderson is that he is not crazy.


Gazette-Journal columnist and major Gannett stockholder Rollan Melton once breathlessly wrote:


"Friends, if you ever believed anything I've written for your eyes, believe this: Charles "Andy" Anderson is most definitely not crazy. A glutton for punishment, yes. But crazy? No way!"


And a couple of years ago Cory Farley took the same tack, leading off a profile of Anderson with the words:


"The thing a lot of people yearn to ask Pro-Life Andy Anderson is, "Are you nuts?


"Not rhetorically, as in 'I don't understand you.' Literally, as in 'Are you crazy?'"


Even Anderson admits that "some of these things I come up with are really way out, as far as some people are concerned."


But what seems to unsettle people most about Anderson, when all is said and done, is that he is living out an absolute commitment. In a country that elects an Arkansan weather-vane to the Presidency and where prestigious academicians teach that truth is a repressive conspiracy, an effective transcendentally- based commitment by someone not deranged seems to boggle the media mind.


Anderson's personal life has essentially been sacrificed. Everything now is simply grist for his anti-abortion cause.


Call him up on the phone, for example, and you'll hear pro-life doggerel:

Abortion rights don't exist


Or evil wrongs may persist.


Pro-choice, the Devil's Lie


Babies do not choose to die.


Please leave your name message and number at the tone signal, I will call you back as soon as possible. God bless you and your loved ones.

Like his schoolteacher used to remind him, "Andy, everything that rhymes is not poetry."


Twice the man has crawled on his knees from Reno's downtown Pioneer Center for the Performing Arts to Washoe Medical Center "as an act of

Top of page
---

---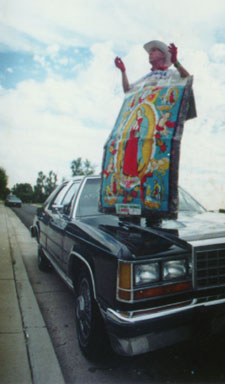 atonement, asking God to have mercy on our country and to beg people to stop killing their babies."


"I'm just a human poster in God's hands, to use any way he inspires me," Anderson will explain, given a chance.


He speaks rapidly, touching on all his key points.


"You have people who are willing to advertise
---

---

dirty books and everything on neon signs on the main street of town," he says, "so why should we be ashamed to be neon signs for God?


"Some people say, 'Oh, you love to see your picture in the paper, and all that,' and if I could do it with a paper bag over my head, I would. But I'm not ashamed of what I'm doing.


"I'm just basically a.. a.." he searches for the word, and finds it, "a.. PR man for pro-life with the Lord. Public relations, like the guy on the commercials in southern..."


Anderson can't recall the name of Southern California auto-sales legend Cal Worthington, but he's got the gist of it:


"... who says, "C'mon down, I'll put my head in the lion's mouth, if you'll buy my car, I'll stand on my head on my car.' And nobody calls up and says, "Aw, you idiot, I wouldn't buy a car from you if you were the last car dealer on earth." What he's done is draw attention to his product, rather than to himself. He draws it to himself and then he gets his message out while they're looking at that crazy guy on top of the car with his head in the lion's mouth. (chuckle)


"And that's my method. That's what I do. I'm not doing it for my personal vanity, cause God knows I have no reason at all; I'm as much of a sinner as anyone else.


"But even if it saves one baby's life, then I'll feel it's justified. People may say, 'I might not like his looks, but is what he's saying true?' That's the important element."



Anderson has been spat upon, pushed, cursed and punched. Rocks have been thrown at him, bottles thrown at him, he's been arrested and jailed about 11 times. His various old cars have been firebombed, the windows broken, tires punctured, antennas ripped off, flags ripped off, hood ornament ripped off. In 1984, when his wife was in the hospital dying, somebody set fire to the basement of their apartment.


But Anderson takes it all, continues to speak gently, and keeps on coming.


So where does that kind of commitment --- to what we frigidly call 'fetuses' --- come from?


There's a story behind Pro-Life Andy Anderson.


Electric Nevada will share it with you here next week.