The personification of Tinseltown's less glitzy side, Kevin Costner, who is slated to act in and direct "The Postman," jetting in unannounced Tuesday with a location crew for an up-close look at the mine.


So clandestine was Costner's visit that only a handful of people showed up at the airport in Battle Mountain to meet the star. Costner and crew arrived from Burbank, California, at 8:45 a.m. and were quickly ushered into a van and shuttled to the site.


Nevada's Marigold Mine is only one of several locations in Oregon, Arizona and California currently being looked at by Costner's production company. The futuristic thriller would be made for Warner Bros. and is scheduled to begin shooting in March, sources close to the film said.


Officials with the state's film commission are keeping what they know about Costner's plans under wraps. Fearing a jinx this early in the game, they refused even to confirm Costner's visit. Tri-County Development Authority based in Winnemucca also is involved in recruiting the project.


Undoubtedly, they would like to woo the big budget production, which one TCDA official guessed could employ

---

---

---
employ 1,000 locals as extras and pour upwards of $1.5 million into the economy.


Costner, the leading man in a number of films, including Dances With Wolves and The Bodyguard, has creative control as director over where filming takes place.


The last of more than a dozen people to get off the plane, Costner was obviously prepared for the chilly weather Tuesday, sporting a down vest, hat, jeans and boots.


The Gulfstream G-3 idled on the tarmac for about four hours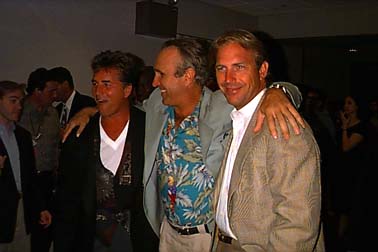 while the actor-director and a bag-toting location crew scoped out the mine site.


TCDA and film commission representatives served as guides for the visit. Marigold officials escorted the group to the inactive gold mine on the company's property.


Gaylyn Spriggs, Marigold mine's manager of administration, said Costner and entourage walked a mile around the open pit, looking at the site from rim to bottom and shot yards of film in the three hours they were scouting.


"They were very professional. They really knew what they were doing,"